On land, as well as at sea: nature should be respected, flora and fauna protected.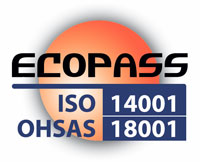 The ISO 14001 standard is the international standard concerning how environmental management systems should be implemented.
It was published by the ISO, the International Organization for Standardisation.
It allows an organisation, or body, to devise an environmental policy, as well as to set goals for the improvement of its environmental performance.
The PAVILLON BLEU label stands for good environmental quality and has a positive, dynamic image with tourists.
It tries to raise general awareness of how to behave in a more respectful manner with regard to nature and its bountiful resources.
The Pavillon Bleu is awarded after 4 main sets of criteria have been examined :
Environmental education
Environmental management
Waste management
Site management
The BIO shop window at the harbourmaster's office
Biodegradable products for sale  :
Washing-up liquid
Detergent
Multi-purpose cleaning products
Triple action spray
Window spray
Shampoo
Almond shower gel
Mint shower gel
Argan oil soap
High-pressure washing station, environmentally friendly and free
The VAGUE BLEUE label : overview
Greywater, blackwater, bilge: pumps, freely accessible and free of charge
Service for yachtsmen with 4 pumps
3 located on the service dock – fuel station (greywater, blackwater and bilge)
1 close to the storage service (for bilge)